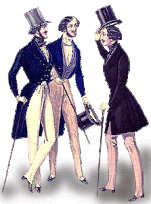 A real gentility never swears or talks uproariously. He should never fail to raise his hat politely to an acquaintance of either sex. If he should bump into someone or step upon a lady's dress he must "beg their pardon", and at no time should he lose his temper nor attract attention by excited conversation.
It is proper to offer a lady his arm, particularly in the evening and it should always be the right arm. People passing should observe the law of "turn to the right" and in this way the lady would not be jostled. It is always proper for a gentleman walking alone to give the lady or a gentleman with a lady, the inside of
Ad blocker interference detected!
Wikia is a free-to-use site that makes money from advertising. We have a modified experience for viewers using ad blockers

Wikia is not accessible if you've made further modifications. Remove the custom ad blocker rule(s) and the page will load as expected.